The Easiest, Most Delicious Way to Lower Your Cholesterol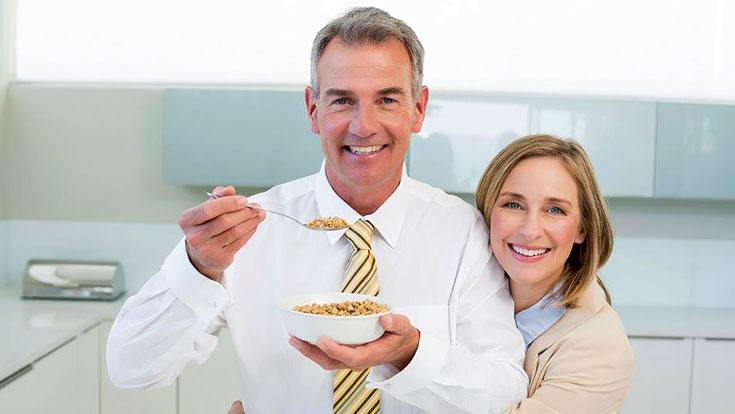 If you're over 40, chances are your doctor has spoken with you about the risks of high cholesterol. "Bad" cholesterol in the blood gets stuffed into the walls of our arteries, causing a plaque-like buildup that can block blood flow. This can lead to heart attacks, strokes, and other problems resulting an early death.
For many Americans, the combination of busy schedules, lack of regular exercise, and eating too much processed or fast foods contributes to bad cholesterol levels. The automatic response from physicians is to suggest dietary changes and then prescribe medication, usually a "statin" such as Crestor or Lipitor.
The ideal is to eat a diet rich in fiber, fruits, vegetables, legumes, whole grains, and nuts. It's been shown over and over that this type of diet can reduce cholesterol levels, thereby reducing the risk for many chronic diseases.
Effecting significant changes in one's diet can be extremely difficult. But nobody wants to spend the rest of their life taking drugs — particularly ones that may cause anxiety, harm your liver, or cause other adverse reactions — and especially when there are countless studies that show you don't have to live like that.

It's with this in mind that we created the ​SuperFoodsRx Cholesterol Cutting Kit. It's been put together by the SuperFoodsRx Medical Advisory Board and includes everything you need for a delicious daily breakfast that can help cut your cholesterol levels dramatically within 60-90 days.  It's an easy way to effect significant change with minimal effort.
No one should be forced to take pills every day if they don't have to. With the easy, delicious and affordable ​SuperFoodsRx Cholesterol Cutting Kit, you won't have to.
How It Works
Our kit contains a 90-day supply of 4 scientifically-proven cholesterol beaters: quick-cook steel-cut oats, oat bran, ground flaxseed and cinnamon.  All organic, non-GMO and gluten- free. Each ingredient is powerful on its own, but when combined for a delicious daily breakfast meal, they pack super-charged cholesterol beating power.
The kit comes with several great recipes to provide options for preparing the breakfasts.  Eat this tasty combo for breakfast, 5 days a week, and you will see a significant reduction in your cholesterol levels after just 60 days — with maximum benefits shown at 90.
Study after study has demonstrated that individuals with high cholesterol (above 220 mg/dl), consuming just 3 grams of soluble oat fiber per day can lower total cholesterol by 8 to 23 percent. Add in the SuperNutrients from oat bran, flaxseed and cinnamon, and you'll be feeling the positive effects of this diet in no time.
Want proof? You can ask your doctor to test your levels before and after, or order a Cholesterol Home Testing Kit with your ​SuperFoodsRx Cholesterol Cutting Kit so that you can track your levels before and after. It's easy to use.
Or just trust the science.  Try the ​SuperFoodsRx Cholesterol Cutting Kit and be on your way to lower cholesterol — fast.
Ready to Lower Your Cholesterol In No Time at All?
$49.95 – Free Shipping