Magical Chickpea Water: the Trendy New Ingredient in Desserts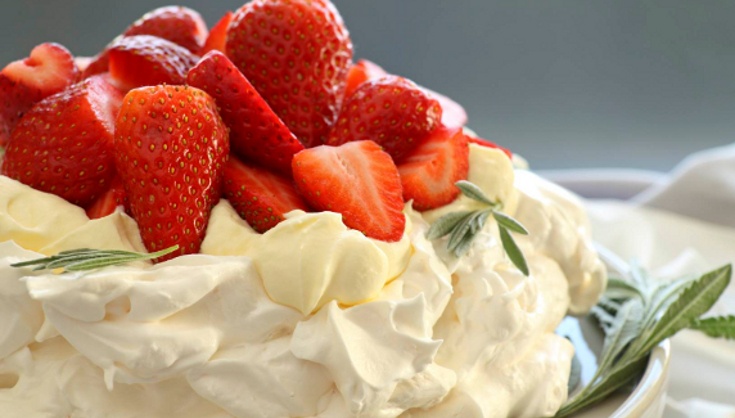 The latest food trend is that vegans everywhere are using the liquid from cans of chickpeas (garbanzo beans) to make some amazing desserts. The trend of replacing eggs (especially egg whites) with chickpea brine is so far reaching that even meat eaters are swapping out their eggs for it in various dessert recipes. This magical ingredient works so well that people have created a Facebook Group called Vegan Meringue – Hits and Misses.
Vegans and non-vegans are using the thick juice from chickpeas to make marshmallow fluff, meringues, cookies, pavlovas, macaroons, sponge cake, even angel food cake, fudge and pasta (the list goes on). Some people are even making pizza crust out of this stuff, which is sometimes called aquafaba and has an official website. According to the site, the aquafab community was born March 2015, after years of trial and error. There's also a complete timeline of what lead to the discovery of baking with chickpea brine on the site.
Ever since this magical ingredient was found to work as well as eggs vegans have been hard at work coming up with scrumptious baking recipes that often fell flat before they came upon chickpea brine. What was once a particularly tricky issue of replacing egg whites has now been solved with this simple solution.
The reason chickpea liquid works so well in replacing eggs is that it binds, leavens and gives the dessert some chewiness. Vegans are blogging about how amazing this new ingredient is compared with other egg substitutes like ground flax, which is complicated to prepare, doesn't taste very good and often dries out desserts that are supposed to be moist.
People have been baking with chickpeas as whole egg substitutes for years, but the discovery of using the liquid in the can for an egg white replacement is relatively new. It's also a dream come true for vegan meringue lovers, who were hard pressed to find a successful ingredient to make the fluffy stuff.
All you have to do to make an eggless meringue is add sugar (or a sugar substitute) to the chickpea brine and whip it (some recipes call for cream of tartar, others don't). In other dessert recipes, just use about three tablespoons of brine in place of each egg in the original recipe. Reports are saying it's helpful to use a hand mixer, stand mixer, or blender because it takes a lot of time and energy (sometimes up to 15 minutes of mixing) to get the right consistency. Single blade immersion blenders don't always do the trick.
So, go ahead and put your eggs away and whip it up!